The 2017 New American Home
Sustainability drove the design of a space-efficient concept home that takes cues from nature while providing the latest in innovative technology, functionality, and design.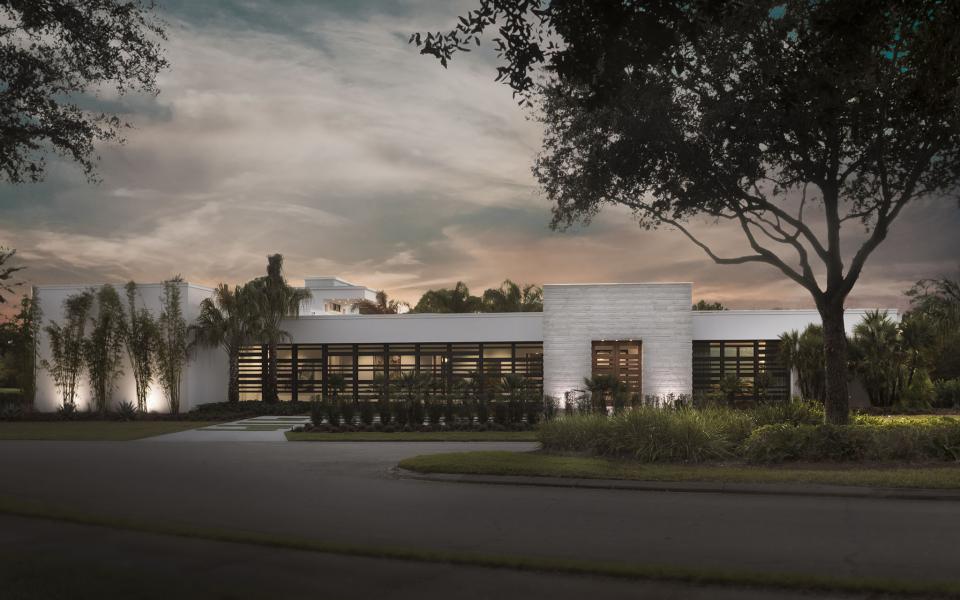 RESORT-STYLE LIVING MEETS ENERGY SMARTS IN A SLEEK AND LUXURIOUS MIDCENTURY RETREAT
THE NEW AMERICAN HOME, LAKE NONA, FLA.
ARCHITECT/BUILDER/INTERIOR DESIGNER: PHIL KEAN DESIGN GROUP, WINTER PARK, FLA.
LANDSCAPE DESIGN: MILLS DESIGN GROUP, OVIEDO, FLA.
LOT SIZE: 31,094 SF
TOTAL AREA: 12,509 SF
LIVING AREA: 8,245 SF
BEDROOMS: 5; BATHS: 7.5LS DESIGN GROUP, OVIEDO, FLA.
LOT SIZE: 31,094 SF
TOTAL AREA: 12,509 SF
Contemporary architecture is a signature of Phil Kean, principal of Phil Kean Design Group, in Winter Park, Fla., and architect and builder of The New American Home 2017. Many a Kean home offers a hat-tip to the roots of modernism, such as the International Style that developed here and in Europe in the 1920s and '30s, or the Prairie Style originated by American icon Frank Lloyd Wright. Yet another icon of American culture helped inspire Kean's design of The New American Home 2017: the group of 1950s celebrities known as the Rat Pack and the fun-loving postwar era that personalities such as Sammy Davis Jr., Dean Martin, and Frank Sinatra came to symbolize. Fast-forward half a century, and this year's edition of The New American Home is a 21st-century take on the glamorous, sprawling ranch houses of the 1950s. In Kean's hands, the architectural style that grew up in Palm Springs, Calif., is equally at home in Lake Nona, Fla.
A house of glass that's built around a putting green and a pool. The New American Home 2017 is an indoor-outdoor haven. The design elaborates on the courtyard idea with mini-courtyards within courtyards set on precise axes, and covered lanais that offer connections to the outdoors and privacy. Sightlines throughout the home provide abundant natural light, not to mention views of the pool and putting green, as well as to the pond and golf course beyond. Lake Nona, a gated community 15 minutes south of Orlando airport, is home to impassioned amateur and professional golfers alike, as well as tennis pros and snowbirds from all over the world. With a casita that boasts its own kitchenette and three guest suites, the five-bedroom, seven and a half-bath home can easily accommodate family and guests that come from afar for extended stays. Kean intended the home to feel like a mini-resort built for good times. A swimming pool, hot tub, workout room/spa, golf-simulator room with bar, and a game room with a pool table offer play spaces of every sort. "This is a house where you put on Frank Sinatra, have a martini, and feel like you've arrived," Kean says.

MOD PODS
The 12,509-square-foot home has 8,245 square feet of conditioned space with the rest designated as outdoor area. Its innovative pod configuration offers privacy and energy efficiency, too. Kean designed the plan so that each separate pod can be shut down for minimal HVAC use when unoccupied. This helps the house be as energy-wise as it is expansive and is achieved via electronic dampers that divert air to the rooms that need it and ensure some dehumidification is occurring at all times, even when rooms aren't in use. What's more, the spaces "talk" to one another to breathe and filter so that each zone has its own return air, with air conditioning units by Trane providing the main filtration for the home. Balance between spaces' HVAC is achieved via 14-inch air conditioning ductwork that connects the spaces to one another and to the 5-ton variable-speed air conditioner with MERV-13 filters and a 19.25 SEER rating. Ceiling fans positioned throughout the house and in the covered outdoor spaces help optimize airflow. Ideally, the home maintains a humidity level that's less than 55 percent, minimizing mold and dust-mite spores, says Drew Smith, COO of Two Trails Sustainable Building Consulting, the home's third-party certifier. The home is aiming for multiple certifications: National Green building Standard (NGBS) Emerald, Indoor air-PLUS, Energy Star, and LEED for Homes.

LUXURY HOME, ENERGY MISER
A 12,000-square-foot house that lives lightly sounds implausible, especially when more than half of the walls are glass. Yet energy costs are expected to come in at just under $250 per year, thanks to numerous features working in concert. Many appliances are Energy-Star rated and all light fixtures are LED, including a control system that's timed to sunrise and sunset, with wiring by Eaton. The roof, which has an R-21 value, is insulated with Icynene; exterior walls are R-16.2 thanks to a combination of injected foam on the insulation blocks, ¾-inch extruded foam and insulation board by Kingspan, plus a radiant barrier from Fi-Foil and drywall by CertainTeed. Sliding glass window-walls are low-E single-glazed, with a thermally broken aluminum frame. The windows' SHGC ratings range from 0.23 to 0.17.
ABUNDANT LIGHT
A hefty portion of The New American Home's energy savings comes from the rooftop's 60-panel 17 kW solar array. Two Tesla battery units, 14 kW each, are tucked at the north side of the house with the other mechanicals. They store the power collected by the rooftop's solar array, minimizing energy demand on the home after sunset. A Kohler generator supplies additional backup power, if needed. In the event of an outage, major appliances and HVAC can run, with enough power for radio and television so homeowners can get news and weather updates. Final numbers were still being run at press time, but Smith says that the home's HERS Index score is zero. With floor-to-ceiling windows and white surfaces galore, the need for artificial lighting during the day is minimal. Phantom Screens, positioned throughout the home, work in tandem with generous overhangs to manage solar gain, substantially reducing the indoor air temperature.
BREATHING EASY
Low- or no-VOC paints and finishes by Sherwin-Williams are used throughout the house. Overhead fans help maximize airflow and support air filtration. Concealed pullout vacuum hoses throughout the home make getting rid of dust as easy as possible. In all of the baths, Panasonic fans provide ample ventilation and dehumidification, ranging from 80 cfm to 120 cfm, based on the square footage of the room. A key aspect of sustainability is little modification needed for aging in place.
The New American Home is built at ground level and on one level, with wide doorways, several showers easily accessible via walker or wheelchair, commodes that are easy to reach, and faucets that don't require gripping. Sliding doors feature automatic controls in case occupants aren't strong enough to operate them. The rooftop deck can be reached via a Garaventa Lift elevator. The casita, with its separate entrance, could be home to a nanny, aging parents, boomerang kids, or caregivers.
WATER-SMART, STORM-WISE
The New American Home features eight Energy Star–rated gas tankless water heaters in a piggyback sequence to ensure that a constant supply of hot water is delivered in the most energy-efficient manner. Low-flow lavatory faucets and toilets by Kohler (with an average 1.28-gallon flush) are in all powder rooms and baths. Plumbing fittings by SharkBite allow pipes of differing materials to be connected without an adapter, minimizing waste (and trips to the plumbing supplier). They also require no glue. Drought isn't a worry in Florida, but easing pressure on aquifers is. Once established, landscaping, such as Zoysia, a warm-weather turf grass, and podocarpus, bottle brush, Buddha belly bamboo, Schilling's holly, and six varieties of palm don't require much water in addition to rainfall. Pine bark is used instead of cypress mulch to minimize the use of cypress, a native Florida tree that's an integral part of the wetland ecosystem. Drip irrigation is installed under the plant-bed mulch. Storm runoff is managed by smooth stones that help drainage, plus downspouts, gutters, and pop-up drains that divert storm water to the street and then the pond. The raised platform deck was designed to prevent penetration, minimize the chance of leaks, and divert runoff to the garden. An energy-saving side benefit of the roof deck: It provides shading for the roof, reflecting sunlight rather than absorbing it. A fine gravel channel that borders the home is part of a Polyguard system that aids drainage, discourages mold by keeping plants and moisture from exterior walls, and deters termites.